Native American Saint Taino Tribe Face Mask + Filter Sheet
Native American Saint Taino Tribe Face Mask with PM2.5 Filter.
The Taíno were an indigenous people of the Caribbean. At the time of European contact in the late fifteenth century, they were the principal inhabitants of most of Cuba, Hispaniola (the Dominican Republic and Haiti), Jamaica, Puerto Rico, The Bahamas and the northern Lesser Antilles. The Taíno were the first New World peoples encountered by Christopher Columbus during his 1492 voyage. They spoke the Taíno language, a division of the Arawakan language group. Many Puerto Ricans, Cubans and Dominicans have Taíno mtDNA, showing they are descendants through the direct female lines.
Some groups of people currently identify as Taíno, most notably among Puerto Ricans, Cubans, and Dominicans, both on the islands and on the United States mainland. Some scholars, such as Jalil Sued Badillo, an ethnohistorian at the University of Puerto Rico, assert that although the official Spanish histories speak of the disappearance of the Taíno as an ethnic identification, many survivors left descendants – usually by intermarrying with other ethnic groups. Recent research revealed a high percentage of mixed ancestry in Cuba, Puerto Rico and the Dominican Republic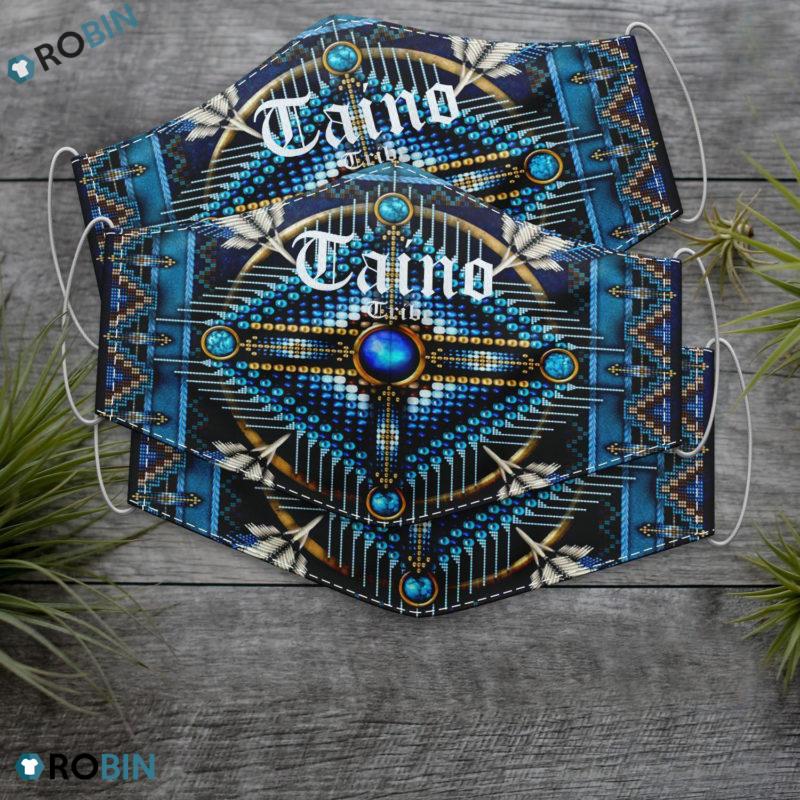 Buy Native American Saint Taino Tribe Face Mask
Each face mask is made with 100% soft, breathable, and stretchable Polyester fiber.
Adjustable elastic sidebands with lock buckle allow it to wear easily. No need to tie or untie the mask each time you decide to put it on or take it off.
– Face mask laces can be black or white
– Package: One (1) Reusable Face Mask (With Three (3) Carbon Filters)
100% Secure payment with SSL Encryption.
If you're not 100% satisfied, let us know and we'll make it right.
Orders ship within 5 to 10 business days.
Tip: Buying 2 products or more at the same time will save you quite a lot on shipping fees.